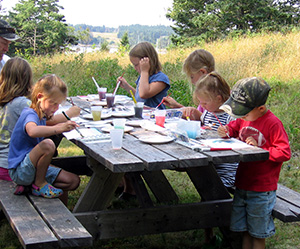 There are several ways that you can support NHCP. As we've said before and will continue to feel in our hearts, we are grateful for each and every gift. People making gifts are automatically NHCP members for 12 months.
Send us a donation by mail. We will apply it to our Annual Appeal (our once a year campaign in the Fall) regardless of what time of year we receive it. You can expect an acknowledgement in the mail that will also serve as documentation for income tax purposes.
Click on the Donate Now button and make a secure donation by credit card. As state above, we will apply your gift to our Annual Appeal unless you indicate otherwise.

Make a memorial gift. Sadly friends and relatives who loved North Haven pass away. NHCP accepts gifts in their honor and accounts for these donations so we may use them toward the purchase of a special place in the future. Please see the list of loved ones so honored to date.
We also accept honorarium gifts celebrating graduations, birthdays, anniversaries, weddings, and special holidays. The honoree or their family will be notified of your gift and we will also send you an acknowledgment of the donation for your tax records.
Make a donation of securities. Please contact us so we can provide the information necessary to make a transfer. Once received, NHCP liquidates the securities immediately.
Make an estate gift. Include a portion of your estate to NHCP as a gift in your will. If you are considering such a donation, please let us know if you need some assistance in the preparation of the appropriate legal documents.
Donate a piece of land or a conservation easement on a portion of your land (please see menu heading "Conservation Partnerships" for more information). Please contact us as well. Any conversations and correspondence are strictly confidential as we explore conservation options together.
NHCP is a 501(c)(3) non-profit organization. Donations are fully tax-deducible to the extent allowed by law.
Donate today